Blog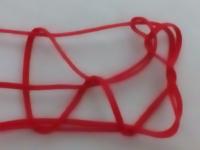 A. Do the monocanthus.
Faire le monocanthus.
B. You have a upper right loop,
near R2.
The string R2n of the upper loop
passes through it.
And the string R2n of the
lower loop
encircles it.
Vous avez une boucle
supérieure droite.
La ficelle R2v de la boucle
supérieure passe à travers.
La ficelle R2v de la boucle
inférieure l'encercle.
C. Then, R1 enters away from
you, into this loop, but
below both loops R2.
Release slowly R2.
Puis, D1 entre loin de
vous, dans cette boucle,
mais sous les deux boucles
D2.
Libérer doucement D2.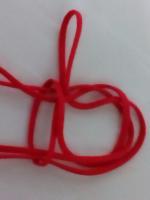 D. Release R5.
Introduce R234
from above into
the R1 loop.
And that's it!
You got the shepherd!
Release R1.
Introduce D5
between the shepherd's leg
and it's stick, toward you.
Libérer D5.
Introduire D234
par en-haut dans
la boucle D1.
Et hop!
Vous avez le berger!
Libérer D1.
Introduire vers vous
D5 entre la jambe du berger
et son bâton.
E. Introduce the strings
L1n and upper L2n
through the shepherd's head,
away from you,
With the help of L1 and L2.
Then hold them with R1 and R2.
Release the L hand.
Introduire les ficelles G1v et
G2v supérieure à travers la
tête du berger, loin de vous.
Avec l'aide de G1 et G2.
Puis les tenir avec D1 et D2.
Libérer la main G.
F. And L1 and L2 take the strings
from R1 and R2.
Introduce L345 from below
into the loop L2.
Arrange the legs.
Release R234
(not R5)
to get the head.
Extend.
Et G1 et G2 prennent les
ficelles de D1 et D2.
Introduire G345 dans la
boucle G2, par en-bas.
Arranger les pattes.
Libérer D234
(pas D5)
pour avoir la tête.
Etendre.