In English too
COLLECTED BY
DR. A. C. HADDON





A. Opening A.
B. 5 passes above 2
and removes from
above 1.
C. 1, below 2, removes from
below 5².
You have two loops on 1
and one on 2.
D. 5, passes above 2
and picks up 1f².
E. You have a triangle in
the center of the figure.
F. 2 picks up the double strings
of this triangle.
G. Navaho 2 (lift the lower loop
over the upper double loops
and release it).
H. Release 1.
Turn 2 three times, away
from you. Release 2.
Draw a little with L5 to
bring the bear close of
the man.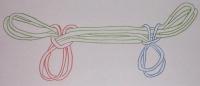 Now your turn.
Unless you prefer
"Ménagez l´homme et
l´ours"
And don´t forget:
"Il ne faut pas vendre la
peau de l´ours avant de
l´avoir tué"
("To count one´s chickens
before there´re hatched")